Why Wouldn't You Choose Bamboo?
Have you ever been faced with an argument so strong, that it not only changes your own mind but also made you want to make you change the whole world?
Well, that's how we feel about bamboo.
In the early 2000's when we first got together Dustin and I wanted to combine our talents and go into business as a couple. Previous to this I had, had my own recycling business and Dustin was already growing his construction business Deadbolt Construction. Although we weren't certain yet what the business model was going to be, I knew that I wanted it to be something that related to saving the environment, as I have been a life-long animal lover and am passionate about sustainability and recycling. Dustin well – he was looking for something profitable that utilized his knowledge of carpentry and building. He also wanted to make me happy. What can I say, we were a pair of crazy entrepreneurs who were trying to concoct a future together.
Bamboo actually came into the picture by accident. A friend of mine asked me to see if Dustin could construct for him a Bamboo fence. Being from a small city in Alberta Canada, Medicine Hat, it isn't like you often see a bamboo fence when you are just walking down the street. It was actually a bizarre request but Dustin, who is always up for a challenge, said he could do it. And so we ordered a palette of Bamboo fencing and that was that. Dustin was building his first bamboo fence under Deadbolt.
But it was in the process of getting the bamboo for the fence and researching how to build with it that the wheels started to turn and our new business was born.
We were getting our bamboo education and what we discovered was surprising.
What We Didn't Know About Bamboo: And What You May Not Know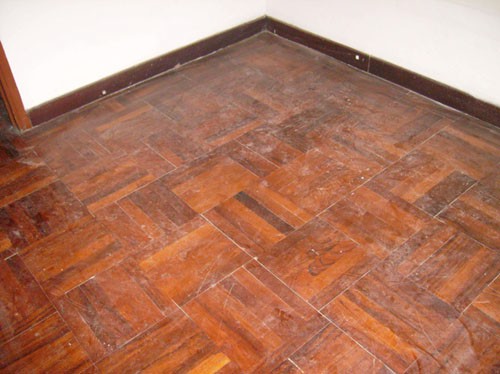 Original 90's Style Bamboo Floor – Not A Great First Impression
Like most people, we hadn't invested a lot of time thinking about bamboo and what we knew about it was limited to what we had heard in passing. In fact, one of the biggest misconceptions that people believe about bamboo; that it is a horrible building material – was also something that we once thought.
Interestingly, that misconception comes from the mid-1990s when the first bamboo flooring came out as sorta a "quirky" novelty. People with eccentric taste would install it in their home as a conversation piece only to discover later that early versions of bamboo flooring were difficult to maintain and did not hold up over time. Needless to say the bamboo flooring gaudy decor trend was short lived. By the start of the 2000's bamboo flooring was largely disregarded and many homeowners had bought into the misconception that bamboo flooring was just a "bad choice".
Despite this, textile manufacturers and individuals working in the build green and sustainable material industry were working vigorously to identify and resolve the issues that bamboo held as a building material. Why? Well, their motivations were simple.
Bamboo grows quickly.
It is incredibly strong.
And is aesthetically pleasing.
Plus you can grow and harvest bamboo ( to use as a textile material ) with little to no negative impact on the environment. And, if the original issues that bamboo flooring had, could be resolved – it would be a promising alternative to traditional hardwood.
It was in our research for this first bamboo fence that we learned all of this about bamboo and our brains started turning on the full potential.
At this point in time – early 2000's there were a few players in the bamboo innovation and bamboo research game that we got into contact with. Our initial plan was to bring in some bamboo flooring samples( the new, more durable bamboo floors ) and start to retail these through Dustin's construction business. As we became more involved and we started to get the down-low on bamboo and recent innovations in bamboo technology, a whole new business concept emerged.
Inform, Educate and Sell Bamboo!
Before long we were not only committed to retailing bamboo flooring and other bamboo construction supplies ( for bamboo fencing and the like ). We were also getting involved in the development of better bamboo floors, the innovation of bamboo products. ( Hence the name Bamboo Innovations.)
Even once the bamboo flooring was made available to us to demonstrate, install and retail – we still had a unique challenge on our hands. How to get people, who are largely convinced that bamboo is no good and that authentic hardwood is the way to go to "buy into it"??
In this, we tackled our first ever large scale marketing dilemma. How do we make people care about bamboo?
Luckily our own experience, learning about the sustainability, durability and full potential of bamboo served as inspiration. If everyone knew what we now know – how could they refuse? The latest innovations in bamboo flooring had led to a product that was comparable to true hardwood and even the leading imitation hardwood. The difference being that it was a 100% green solution. No important oxygen trees were harmed in the making of these gorgeous floors. And because bamboo flooring technology had so much to prove, the flooring – we had access to at this time was scratch resistant, insanely durable, easy to install and could last a lifetime. It was a perfect product. People just needed to hear about it.
So we started on the tradeshow circuit! Preaching the good word of bamboo across Canada! In the first five years, we went from selling palettes of bamboo in a Walmart parking lot to taking in hundreds of orders at trade shows. Our sales strategy was to demonstrate and educate. Just like us, once people knew the truth about bamboo they couldn't say no. And once they saw the floor samples up close, they could see for themselves that it looked better than laminate, was comparable to hardwood – and was a truly green solution.
What Is Next?
This is just the beginning of our crazy bamboo story. It has been over a decade now and we continue to market and sell bamboo, like crazy!
Since there has been an increased interest in the build green movement with more people looking for sustainable products, interest in bamboo has increased. Bamboo textile technology is also cutting edge now and new bamboo products are continuously hitting the market. We've been riding this new wave of interest with great optimism, doing our part to make sure that it isn't just a trend but a full on the movement towards a more sustainable future.
So that's where we are at. As we head out on another adventure. Our goal now is to blog and create resources about the importance of building green and emerging bamboo innovations so that more people can be educated like we were. In many ways, with bamboo, we fell in love and never looked back. We've been lovestruck for awhile and are finally ready to take our affair public.
Are you ready to fall in love?
Grab a copy of our bamboo booklet and get your bamboo education today!
NOT SURE IF BAMBOO IS FOR YOU? GRAB THE GUIDE
*Signing Up Subscribes You To Our Bamboo Cult Newsletter
Send Us A Message
* These fields are required.